When is the right time to see a dentist?
You can rest assured knowing our team is going above and beyond to make sure our office is a safe environment for your dental appointment!
While some health organizations have suggested that Americans avoid "routine" dental care, the American Dental Association, and Dave K. Dorroh, D.D.S. agree that delayed dental treatment could lead to more harm than good. Even missing regular cleaning may mean additional appointments to repair the damage that could have been avoided. Our goal is to keep you smiling bright every day! And that means never neglecting your oral hygiene!
We understand this is a concerning time. But know that our dental office has successfully reopened and everything we do is to keep our dental family safe. One thing for sure is Dave K. Dorroh, D.D.S. has always taken infection control seriously and with COVID, more-so than ever before.
The right time is always sooner rather than later. Please don't delay your next cleaning or dental appointment! Feel free to talk with us about the preventative measures we are taking. We are here for you!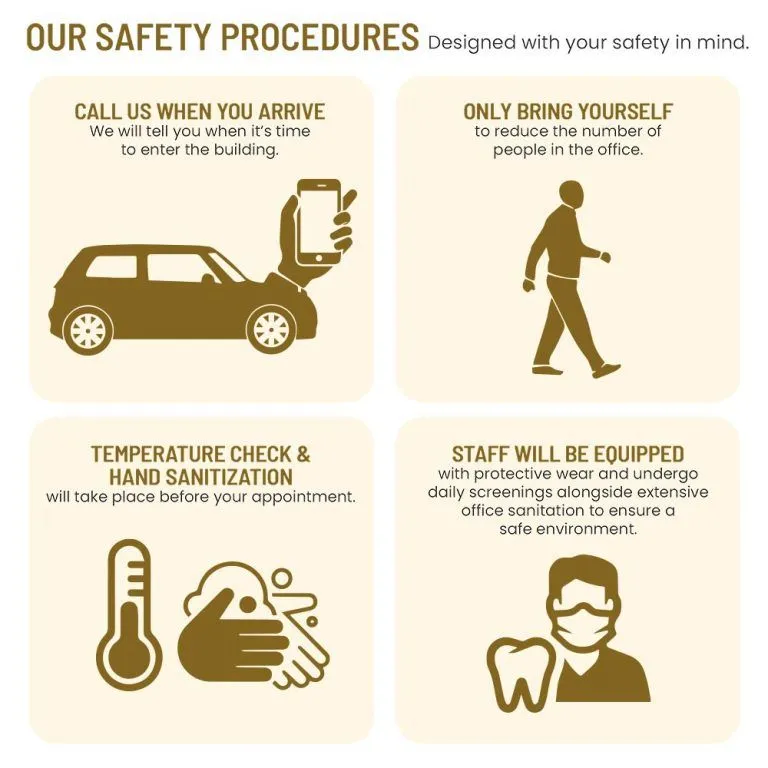 As we keep our office open for all patients, please be assured that your health and the safety of our team is our top priority. We want to update you on our office, it's measured re-opening, and the steps we are taking to ensure we do everything possible to keep our patients and our team healthy.
We have diligently worked as a team to retrain, add new safety protocols and equipment that are designed to make our office a safe environment for everyone. Our office procedures have temporarily changed and will include the following:
Visits:
As always, we strictly adhere to all CDC and OSHA guidelines. The following are some new protocols we are implementing to minimize risks as directed by the Texas Dental Board, CDC, OSHA, and ADA:
To limit the number of people in the waiting room, we ask that you please stay in your car. Text "HERE" to 281-351-0039 or give us a call to let us know that you have arrived. We will notify you when we are ready for you to come in.
Only the patient that is being treated should enter the office. The exception to this will be for younger patients. Of those, only one parent/caregiver may accompany the patient.
Please bring your own mask and wear it to your appointment. Federal guidelines for social distancing and wearing masks in businesses continue, so bring the mask you have been using as our PPE supplies are limited.
Your temperature will be taken by staff using a touchless thermometer. If your temperature is over 100 degrees F, you will be asked to reschedule.
A simple questionnaire assessing your contacts, travel, and well-being will be asked of all patients as well. Any question indicating recent exposure to someone with COVID-19 or having signs and symptoms of the same will be asked to reschedule.
Maintain the 6-foot social distancing guidelines when in the office until seated in the treatment chair.
For the safety of our team and to keep risk as low as possible while still providing care we will be asking patients to do a 1 minute rinse with 1% hydrogen peroxide solution at the start of their appointment per the suggestion of the American Dental Association.
Team:
We will take the temperatures of every team member, including Dr. Dorroh, immediately upon arrival at work, and after lunch. Any team member at 100 F or above will go home. As with any illness, any of our staff showing any symptoms of illness will be asked to stay at home.
Should a staff member have a member of their household test positive for COVID-19 they will be put on medical leave as they undergo quarantine.
General:
You will find upon arrival that our furniture has been rearranged. You'll also notice other changes made to ensure the health and well-being of our patients and our team. Hand sanitizer is available in all treatment rooms and at the front desk area. We have removed all magazines/books/toys from our waiting room for the time being. The public areas, including door handles, chairs and bathrooms are disinfected several times throughout the day.
We continue to monitor the impact of the COVID-19 pandemic and to proactively ensure our patients and workforce remain safe and protected. We have always used universal precautions with the most state-of-the-art equipment and will continue to do so.
We are so grateful for every one of our patients, and the time away only served to make us even more thankful for each of you. You are the life-force of our practice, and this is why we are taking your safety VERY seriously. We would ask for your patience and understanding. Please forgive us as we are focusing on getting each of you back on track while not exposing our team members or patients to unnecessary risk.
If you have any questions, please feel free to call our office. We love all of you, here's to your health and smile!